Why Automate Your Gate
Thinking of automating your gate?  Whether you have an existing manual gate or looking at adding an electric or solar gate, it's important to consider why it's worthwhile adding gate automation to your property. 
Remember when installing an automatic gate on your driveway, entrance gates, property boundary gates or at business was considered over the fence? A powered gate used to be something found only in wealthy business establishments and/or affluent houses. 
Fortunately, technological advancements have made investing in an electric or solar gate more accessible than ever before. Furthermore, because technology is becoming more sophisticated, gate automation systems are becoming even more secure.
Today, high-tech gate automation is assisting South East Queensland property owners in increasing the security of their homes, properties and businesses. Aside from the added convenience, a sliding or swing gate has the potential to improve the aesthetics and value of your property.
Tamborine Automatic Gates
Automated solar or electric gates are a terrific way to keep your home safe while also making access quick and easy. Our team at Tamborine Automatic Gates will take you through the entire gate automation process step by step.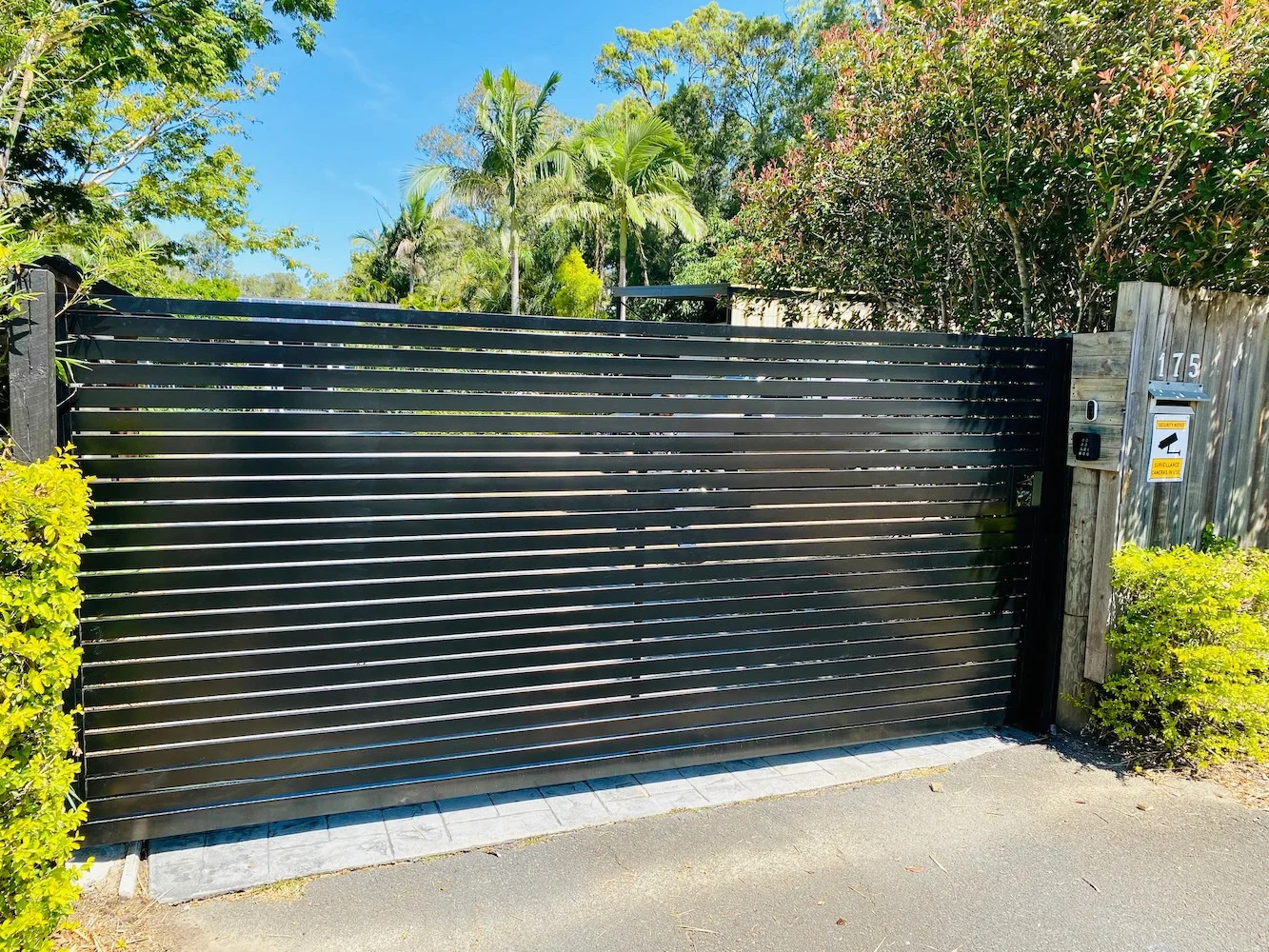 Unlike many other gate companies, we do not believe in providing one-size-fits-all services. Each household or business has its own set of challenges and requirements. Our passion is to listen to your needs and use our experience to meet and exceed your expectations by selecting the perfect solution from a range of gates that will work best for you.
If you've been considering replacing your existing gate with an automated one, you should read this. Let's go over some of the main reasons why you should automate your gate.
The Advantages of Automated Gates
1. Enhanced Security:
The peace of mind that comes with having a robust automatic gate system to deter unwanted visitors from your property is priceless. You'll be able to improve your home's security with a mere push of a button.
It can be difficult to keep up with curious children and/or animals who wander around the property on a daily basis.  With our kid and animal-proof automatic gating systems, we can help you reduce stress and boost your peace of mind.  Our obstruction sensors also provides reassurance that no one or animal will be hurt in the operation of your gate by providing adequate clearance.
Our automated swing gates are a great way to improve both your outdoor and indoor security. Contact us right away for a free quote.
2. Increased Convenience:
The incredible convenience that automatic gates provide is one of their most obvious advantages. This is especially true after you've had a long day at work or on the road.
There are a ton of reasons why having to get out of your car to open your existing gate can be a bad idea. Whether it's pouring down with rain or having to deal with pets and small children in the car doesn't make things any easier.
All of these difficulties are easily resolved with automated gates. They allow you to remain safe and comfortable in your vehicle while the gates open automatically using a remote control.
Our automatic sliding gates add a lot of value because they are more difficult to force, acting as a deterrent. Not only that, but the gate opens sideways rather than inwards, allowing for more space on the drive.
3. Create Immediate Curb Appeal:
There is no better way to make your home's exterior more appealing without going bankrupt in the process. Believe it or not, an automatic gate system is exactly what you need to make that happen.
An electric or solar gate can be both elegant and imposing, and it is always an enchanting addition to any home. Gates can be sleek and contemporary or add a more traditional touch to your home or business, depending on the style you choose.
We can design custom gates to meet your specific requirements and aesthetic preferences. We have a wide range of decorative designs to complement any exterior that will please both you and your visitors.
You can have steel or aluminum gates to suit your needs. You can't go wrong with these classic and timeless materials, and they look fantastic in both modern and traditional settings.
Choosing the sort of gate for your property might be difficult, but it is a significant decision. We make the process simple for you at Tamborine Automatic Gates by fully outlining the benefits of each material and what is appropriate for your property.
Regardless of your preference of the type of gate you want, our automatic gate systems may give your house a sense of grandeur, elegance, and prosperity.
4. Increase the Value and Desirability of your Property:
Many security solutions can increase the value of your property and make it more appealing to buyers. Our electric and solar gates provide the value-added features that any home or business owner would desire.
All of the above benefits come with the added benefit of increasing the value of your property. As a result, it's no surprise that electric and solar gates are popular among home and business buyers.
Our automatic gate systems provide aesthetic value, a sense of elegance, and distinction. In addition, they help create the appearance of lower crime rates and a safe environment for children.
With this value-added, it will attract more potential buyers while increasing the overall property value of your location.
Even on properties on the edge of rural and suburban areas, our automatic gate systems can provide tremendous benefits. Automating your old farm gate, for example, can increase productivity while also protecting the safety of your land.
High-Quality Automatic Gate Installation Services
Consider Tamborine Automatic Gates, your Automatic Gate Specialists today if you're considering purchasing an automatic gate for your property or upgrading an existing one. Alternatively, if you already possess one, you can come to us for repairs and maintenance of your gate motor and gate accessories.
For optimal convenience and safety, you should consider a yearly service and check of all the mechanisms on your gate systems.
 Tamborine Automatic Gates is the preferred local choice for top-notch automatic gates for your house or company. Take a look at our gallery page for some inspiration and to see some recent examples of our work.
If you need a new gate or other relevant equipment, please contact us via our website or call us at 0492 958 077, and one of our friendly employees will be happy to answer any questions you may have.